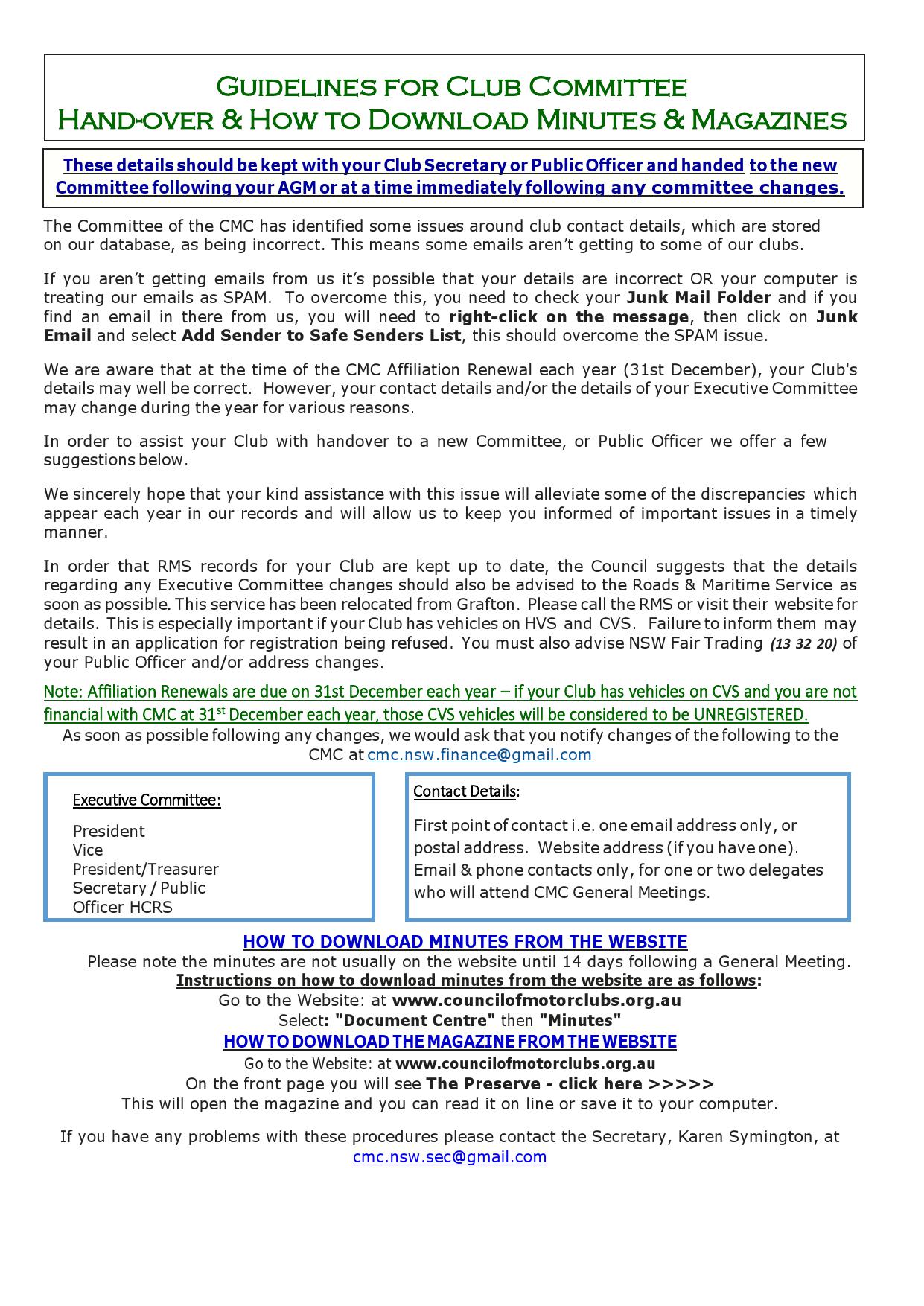 Guidelines for club officials changeover
click the image for more.
For Joining the CMC.
Follow these guidlines.
more.....
CMC Affiliated Clubs for 2023 only. Expires 31 December 2023
For 2024 Renew NOW
Please message the secretary at CMC by using the Contact Us form.
Please check your Club listing and let us know if it needs updating.
If your club is no longer on the list then your affiliation is not current.
Please use the CMC Club Code when communicating with CMC or paying fees etc.
| | |
| --- | --- |
| Club Code | Club Name |
| 4962F | 1949-1962 Ford V8 Club of NSW Inc. |
| 48FJH | 48 & FJ Holden Owners Club of NSW Inc. |
| 7282FC | 72-82 Ford V8 & Cobra Owners Club Inc. |
| ACC | Air Cooled Cruisers Inc. |
| AROCA | Alfa Romeo Owners Club of Australia (NSW) Inc. |
| ASCBC | All Sorts Car & Bike Club Inc. |
| ALVIS | Alvis Car Club of NSW Inc. |
| AMCCA | American Muscle Car Club of Australia Inc. |
| APCCA | Anglia-Prefect Car Club of Australia Inc. |
| ACMC | Antique & Classic Motor Club Inc. |
| ASCC | Armstrong Siddeley Car Club, The |
| AMOC | Aston Martin Owners Club (NSW) Inc. |
| A7C | Austin 7 Club NSW Inc |
| AA40C | Austin A40 Car Club of Australia (NSW) Inc. |
| AHOC | Austin Healey Owners Club (NSW) Inc. |
| AMVC | Austin Motor Vehicle Club NSW Inc. |
| AAVA | Australian Armoured Vehicle Association Inc. |
| AEMV | Australian Ex Military Vehicle Collectors Society Inc. |
| AHBM | Australian Historic Motor Club - Blue Mountains (A.H.M.C. - B.M.B. Inc.) |
| AHMC | Australian Historic Motor Club Inc. |
| AHRG | Australian Historic Rally Group Inc. |
| AMM | Australian Motorlife Museum, The |
| AMHF | Australian Motor Heritage Foundation Ltd. |
| AP356 | Australian Porsche 356 Register Inc., The |
| ARDC | Australian Racing Drivers Club Ltd. |
| AUCC | Auto United Car Club Inc. |
| BTTC | Back to the Classics Inc. |
| BDCR | Bentley Drivers' Club NSW Region Inc. |
| BDHVC | Berrima District Historic Vehicle Club Inc. |
| BMMC | Blue Mountains Motoring Club Inc. |
| BMWDC | BMW Drivers Club of NSW Inc. |
| BCCA | Bolwell Car Club of Australia - BCCA (NSW) Inc. |
| BOCA | Bristol Owners Club of Australia (NSW). |
| BEAC | British & European Auto Club (S'thern H'lands NSW) Inc. |
| BCCH | British Car Club of The Hunter Region Inc. |
| BFCC | British Ford Car Club of NSW Inc. (Prev. Cortina Ford Anglia) |
| BUICK | Buick Car Club of Australia in NSW Inc. |
| CLCA | Cadillac LaSalle Club of Australia NSW Region Inc. |
| CFOC | Camaro Firebird Owners Club of Australia Inc. |
| CHVC | Campbelltown Historic Vehicle Club Inc. |
| CAPRI | Capri Car Club of NSW Inc. |
| CCAF | Central Coast All Ford Club Inc. |
| CCAC | Central Coast American Classic Inc. |
| CCBC | Central Coast British Car Club Inc. |
| CCHC | Central Coast Historic Car Club Inc. |
| CCOS | Central Coast Old Skool Auto Club Inc. |
| CCR | Central Coast Rides Inc. |
| CSTCCC | C.ex Coffs Sports Touring & Classic Car Club. |
| CCNSW | Chevrolet Club of New South Wales Inc. |
| 5CS | Chrome, Classic & Custom Car Club Inc. |
| CRCA | Chrysler Restorers Club of Australia Inc. |
| CCC | Citroen Car Club of NSW Inc. |
| CHACA | Classic & Historic Auto Club of Aust. (Sydney) Inc. |
| CVMC | Classic & Vintage Motor Club of Eurobodalla Inc. |
| CCCI | Classic Car Club Illawarra Inc. |
| CCCC | Classic Cruisers Car Club Inc. |
| CFO | Classic Falcon Owners Club of NSW Inc. |
| CGI | Classic Garage Illawarra Inc. |
| CLSMC | Classic Mechanical Club Inc. |
| CRC | Classic Rally Club Inc. |
| CVCA | Classic Vehicles Club of Australia Inc. |
| CAHEC | Club Autohaus Historic & Exotic Car Club Inc. |
| CLA | Club Lotus Australia Inc. |
| CMA | Club Maserati Australia Inc. |
| CVDS | Club Vee Dub Sydney Inc. |
| CIAO | Combined Italian Auto Organization Inc. |
| CAVC | Cowra Antique Vehicle Club Inc. |
| CRSL | Cronulla RSL Motoring Enthusiasts Group. |
| DLOC | Daimler & Lanchester Owners Car Club of Aust. Inc. |
| DCCC | Dapto Classic Car Club Inc. |
| DBAC | DBA Cruisers Inc. |
| DICC | Detroit Iron Car Club Inc. |
| DDCC | Dirty Dogs Car Club Inc., The |
| DOCC | Dodge Owners Car Club of Australia (NSW) Inc. |
| DSOA | DSOA (NSW) Inc. |
| EFCC | Early Falcon Car Club of NSW Inc. |
| EFV8 | Early Ford V8 Club of NSW Inc. |
| ETCMC | Early Times Car & Motorcycle Club Inc. |
| EJEH | EJ EH Holden Owners Drivers Club Inc. |
| EDC | Everyday Cruisers Inc. |
| EMCC | Extreme Muscle Car Club Inc. |
| FGTOC | Falcon GT Owners Club of NSW Inc., The |
| FBEK | FB-EK Holden Car Club of NSW Inc. |
| FEFC | FE-FC Holden Car Club of NSW Inc., The |
| FIAT | Fiat Club of NSW Inc. |
| FFVD | Flat Four Vee Dub Club Sydney. |
| FFLTD | Ford Fairlane & LTD Owners Club Inc. |
| FGCA | Ford Galaxie Club of Australia Inc. |
| FXFJ | FX-FJ Holden Club of Australia, Sydney Chapter Inc. |
| GCVC | Glossodia Classic Vehicle Club Inc. |
| GLUT | Gluttons Inc., The |
| GBCC | Gnoo Blas Classic Car Club Inc. |
| GMCC | Goat Motorcycle & Car Club Inc. |
| GEAR | Golden Era Auto Racing Club Inc. (G.E.A.R) |
| GCC | Goodfellas Car Club Inc. |
| GLHA | Great Lakes Historic Automobile Club Inc. |
| GSHCC | Great Southern Historic Car Club Inc. |
| GTC | GT Club Inc., The |
| GTRX | GTR & XU-1 Owners Club Inc. |
| GDAC | Guyra & District Automotive Club Inc. |
| HPMS | Hairpin Motorsport Inc. |
| HHCC | Hawkesbury Historical Car Club Inc. |
| HDHR | HD-HR Holden Club of New South Wales Inc. |
| HSCME | Henry Sports Club Motoring Enthusiasts Inc., The |
| HOCA | Hillman Owners Club Australia Inc. |
| HDCC | Hills District Car Club Ltd. |
| HFEA | Historic Fire Engine Association Inc. |
| HGNA | Historic Group N Association NSW Inc. |
| HSRCA | Historic Sports & Racing Car Assoc. NSW Inc. (HSRCA) |
| HTCA | Historic Touring Car Association of NSW Inc. |
| HSCCA | Honda Sports Car Club of Australia Inc. |
| HSVOC | HSV Owners Club of NSW (Incorp. HDT) Inc. |
| HAMC | Hudson-AMC Car Club Aust. Inc. |
| HCCA | Humber Car Club of Australia Inc., The |
| HVTC | Hunter Valley Torana Club Inc. |
| IVCC | Illawarra Vintage Car Club Inc. |
| IWM | Inner West Minis Inc. |
| ICCA | Isuzu Car Club of Australia Inc. |
| IMSM | Italian Made Social Motoring Club Inc. |
| JDCH | Jaguar Drivers Club - Hunter Region Inc. |
| JDCA | Jaguar Drivers Club of Australia, The |
| JVCV | Jamberoo Valley Classic Vehicles Club Inc. |
| JCCI | Jensen Car Club Inc. |
| JCCA | Jowett Car Club of Australia Inc. |
| KAC | Kenthurst Automotive Club Inc. |
| LMACC | Lake Macquarie Classic Car Club Inc. |
| LCOA | Lamborghini Club of Australia Inc. |
| LMC | Lancia Motor Club of NSW Inc. |
| LROC | Land Rover Owners Club of Aust. (Sydney Branch) Inc. |
| LCCE | Leisure Coast Car Enthusiasts Club Inc. |
| LCCC | Leyland P76 Classic Car Club Inc. |
| P76OC | Leyland P76 Owners Club Inc., The |
| LPHCC | Lions Pride Holden Car Club NSW Inc. |
| LVHR | Lithgow Valley Hot Rods Inc. |
| LVMC | Lithgow Vintage Motor Club Inc. |
| MTMR | Macquarie Towns M'cycle Restoration & Preserv. Club Inc. |
| MAGIC | Magic Metal Motoring Club Inc. |
| MMX5 | Mazda MX-5 Club of NSW Inc. |
| MBC | Mercedes-Benz Club (NSW) Inc. |
| MGCL | MG Car Club Ltd. |
| MGCHR | MG Car Club (Hunter Region) Inc. |
| MGRA | MG Restorers Association. |
| MCSC | Micro Car and Scooter Club Inc. |
| MWMCC | Midweek Muscle Car Club Inc |
| MUVC | Milton Ulladulla Vintage & Classic Car Club Inc. |
| MCCN | Mini Car Club of New South Wales Inc. |
| MAFC | Model 'A' Ford Club of NSW Inc. |
| MTFC | Model 'T' Ford Club of Australia (NSW) Inc. |
| MCCI | Monaro Car Club of NSW Inc. |
| MDME | Moree District Motor Enthusiasts Club Inc. |
| MOGCA | Morgan Owners Club of Australia Inc. |
| MMCC | Morris Minor Car Club of NSW Inc. |
| MMPC | Morris Minor Picnic Club Inc. |
| MOCHR | Morris Owners Club Hunter Region Inc. |
| MRNSW | Morris Register of New South Wales Inc. |
| MCCAC | Motley Cruz Classic Auto Club Inc. |
| MWHAC | Mt. Warning Historic Auto Club Inc. |
| MCD | Muscle Car Drivers Inc. |
| MCPCC | Muscle Classic & Performance Car Club of NSW Inc. |
| MOF | Museum of Fire Inc. |
| MOCA | Mustang Owners Club of Australia (NSW) Inc. |
| MYCC | My Car Club NSW Inc. |
| NCRS | NCRS Australia Inc. |
| NDMM | Nepean District Morris Minor Car Club Inc. |
| NSMCC | North St Marys Car Club Inc. |
| NCUC | NSW Corvettes Unlimited Car Club Inc. |
| NSWHPV | NSW Historic Patrol Vehicles Inc. |
| NSWMCA | NSW Muscle Car Association Inc. |
| NSWRRC | NSW Road Racing Club Ltd. |
| NSWTC | NSW Torana Club Inc. |
| PACA | Packard Automobile Club of Australia Inc.(PACA) |
| PCCN | Peugeot Car Club of New South Wales Inc. |
| PSCCC | Pitt Street Classic Car Association Inc. |
| PME | Pittwater Motor Enthusiasts Inc. |
| PCCA | Pontiac Car Club of Australia (NSW Chapter) Inc. |
| PCNSW | Porsche Club NSW Inc, |
| PMHC | Port Macquarie Heritage Car Club Inc. |
| PSCA | Port Stephens Classic Automobile Association Inc. |
| RCCC | Ralphies Classic Car Club Inc. |
| RSVC | R & S Series Valiant Car Club of NSW Inc., The |
| RMCC | Regals Mopar Car Club Inc., The |
| RCCA | Renault Car Club of Australia Inc. |
| RMCA | Riley Motor Club of Australia. |
| RHTMC | Riverstone Historic Truck & Machinery Club Inc. |
| RROCA | Rolls-Royce Owners' Club of Aust. (NSW Branch) Inc. |
| ROMEO | ROMEO Classic Car & Bike Club Inc. |
| ROC | Rover Owners Club Inc. |
| RACAM | Royal Automobile Club of Australia - Motoring |
| SAAB | Saab Car Club of Australia (NSW) Inc. |
| SHVC | Shoalhaven Historic Vehicle Club Inc. |
| SCCN | Singer Car Club of Australia - NSW Branch Inc. |
| SFCC | Small Ford Car Club of NSW Inc. |
| SCVC | South Coast Vintage Car Club Inc. |
| SPER | South Pacific Electric Railway Co-op Soc. Ltd T/A |
| SHAVE | Southern Highlands All Vehicles Enthusiasts Inc. |
| SHMM | Southern Highlands Morris Minor Car Club Inc. |
| SSCC | Southern Sporting Car Club Inc. |
| SSEH | Southern Sydney Early Holden Car Club Inc. |
| SCCA | Sprite Car Club of Australia Inc. |
| SMC | Street Muscle Cruisers Inc. |
| SCC | Studebaker Car Club of NSW Inc. |
| SOC | Sunbeam Owners Club NSW Inc. |
| SVDNSW | SVD NSW Inc. |
| SBTM | Sydney Bus & Truck Museum Ltd., The |
| SDC | Sydney Datsun Club Inc. |
| TGHN | Tea Gardens Hawks Nest Motor Club Inc. |
| TSCC | Thoroughbred Sports Car Club Inc. |
| TOCA | Thunderbird Owners Club of Australia Inc. |
| TCCI | Toymods Car Club Inc. |
| TCCN | Toyota Car Club of NSW. |
| TSOA | Triumph Sports Owners Assoc. of Aust. (NSW Branch) Inc. |
| TRRA | TR Register Australia Inc. |
| TLCA | Twin Lakes Classic Auto Club Inc. |
| VBOC | Vauxhall Bedford Opel Club of NSW. |
| VOCA | Vauxhall Owners Club of Australia Inc. |
| VHMC | Veteran & Historic Motorcycle Club Ltd. |
| VVCA | Veteran & Vintage Chevrolet Assoc. of Aust. Ltd. |
| VCCA | Veteran Car Club of Aust. (NSW) Inc. |
| VHRDO | Vincent HRD Owners Club NSW Section Inc., The |
| VMA | Vintage Modified Association of NSW Inc. |
| VSA | Vintage Speedcar Association (NSW) Inc. |
| VSCC | Vintage Sports Car Club of Australia Ltd. |
| VVC | Vintage Vehicle Club of Australia 1919-30 Inc. |
| VCVC | Volkswagen Classic & Vintage Club of Australia. |
| VOLVO | Volvo Car Club of NSW Inc. |
| WSHTC | Western Sydney Historical Truck Club Inc. |
| WOGS | Wheels of Glory Social Club Inc. |
| WWOKR | Willys Whippet Overland Knight Restorers Inc. |
| WCC | Wolseley Car Club (NSW) Inc. |
| XWFOC | XW-XY Falcon Owners Club Inc. |
| ZCCS | Z Car Club Sydney Inc. |